Prof. Natubhai K. Shah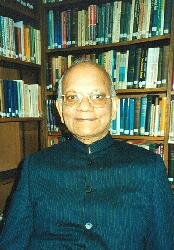 MBBS, PhD
Supervisor Department of Jain Studies
Address: 20 James Close, London NW11 9QX
Telephone: 020 8455 5573. Facsimile: 020 8 922 7619
E-mail:
Place and date of birth: India. 16-09-1932
Career
Practitioner 1957-1968 (India), 1968-1996 (Leicester UK)
Fellow of Royal Society of Medicine
Retired in 1996 and moved to London to devote full time on social and charitable work.
Honorary Fellow in Jain Studies, University of Birmingham
Research Associate SOAS, Member of Leicester University Court.
Academic Work
University of Birmingham as Fellow in Jain Studies.
Involved in Framing the Jain Studies syllabus in Mumbai University & International Summer School of Jain
Studies in North America.
Author of the Jainism Examination Course for Introductory and In-Depth Studies.
Published Work
academic publications
Executive Editor of the Jain quarterly magazine 1982-91.
Author of an article in "my God: Letters from the famous on God and the life hereafter", Pelham Books, 1988.
Co-author of the section on Jainism 'The World's Religions' published by Reader's Digest 1993.
Jainism: The World of Conquerors (2 Volumes) published by Sussex Academic Press 1998.
Author of the section on Jainism 'World Religions' published by The Times 2002.
Evolution of Jain Iconography in Acta Comparanda XIII, FVG Antwerp, 2000.
Sacred Spaces: Jain Temples: in Interreligious Insight, 2003.
Jainism and Islam in Acta Comparanda XIII, FVG Antwerp, 2002.
Editor: "Jainism Explained" by Paul Marett, 1985.
Editor: "Jainism for young children" by Vinod Kapashi, 1984.