Peter Baekelmans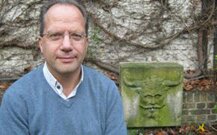 Professor Shingon Esoterisch Boeddhisme
Geboren in Brasschaat, Belgie, 7 Augustus 1960.
Missionaris van Congregation of the Immaculate Heart of Mary (CICM, Scheut)
Vakverantwoordelijke Shingon Esoterisch Boeddhisme bij FVG
Academische Studies:
1980~1985: MA in Vergelijkende Godsdienstwetenschappen, International University of Lugano, Zwitserland.
1986~1990: BA in Theologie, Katholieke Universiteit van Leuven, Belgie.
1991~1993: Japanese Language Studies, Kansai Kokusai Gakuyukai, Osaka, Japan.
1993~1994: voorbereiding entrance exam; Jap. Language Proficiency Test, first level.
1994~1996: MA in Theology of Religions, Nanzan University, Nagoya, Japan.
1996~1998: MA in Buddhist Studies, Koyasan University, Wakayama, Japan.
2001~2005: PhD in Theology of Religions, Nanzan University, Nagoya, Japan.
Teaching stints:
2000~2007: visiting professor aan Maryhill School of Theology, Manila, Philippines.
2007~2008: cursus religie aan Shirayuri Womens University en Sophia University, Tokyo, Japan.
2014~ : cursus Boeddhisme aan Faculteit Theologie en Religiewetenschappen, KU Leuven.
Lid van Academic Societies:
Japanese Catholic Theological Society (Tokyo).
Society of Buddhist-Christian Studies in Japan (Kyoto).
Society of Buddhist-Christian Studies in America (Los Angeles).
Society of Esoteric Buddhist Studies (Koyasan).
Pastoraal Werk:
1998~2000: Co-worker in team-ministry at Sakai Church, Osaka, Japan.
2001~2004: Co-worker in team-ministry in Kyoto, (Nishijin Church) Japan.
2005~2008: Research member of Oriens Institute for Religious Research, Tokyo, Japan.
2008~2010: Co-worker in team-ministry at Matsubara Catholic Church, Tokyo, Japan.
2010~2011: Sabbatical year.
2011~2012: Student pastor op de Katholieke Universiteit van Leuven
2012~2015: Pastoor van Oud-Heverlee (Oud-Heverlee, Sint-Joris-Weert, Haasrode, Blanden)
2016~ : Executive Director SEDOS, Rome, Italie.
CICM:
Verschillende jaren als formator en director van onze interns in Japan.
2004~2010: Council Member van CICM Japan Provincie.
Geven van retraites voor confraters en voor andere congregaties binnen en buiten Japan over Inter-religieuze Dialoog.
2014~ : Voorzitter van General Committee on Mission (GCM)
Others:
Samenwerking in activiteiten voor Inter-religieuze Dialoog binnen en buiten Japan. In bijzonder, theologische dialoog tussen Koyasan University en Theological Faculty of Central Italy, Firenze, en het organizeren van een week-lang Maryknoll Inter-Religious Dialogue Colloquium in Kyoto 2009 met als thema Esoteric Buddhism.
Ook Interfaith Prayers mee georganizeerd op pastoraal vlak. Verder heb ik verscheidene conferenties gegeven op Academic Societies (zie attachment) of Universiteiten (Gent en Antwerpen), en een panel-discussie georganizeerd over 'The Role of Practice and Faith in the Studies of Religion' tijdens een internationale bijeenkomst van Esoteric Buddhist scholars op Koyasan University, Japan.
Publicaties:
Shingon Mysticism, Koyasan Publications, 2006.
Iesu to Kukai, funi no sekai, Nakanishiya Publications, Kyoto, Japan, 2012.
Wereldwijd, verhalen van overal, Uitg. Pelckmans, Antwerpen, 2012.
Anders Denken, Uitgeverij Halewijn, Antwerpen, 2015.
Ervaring van niet-Christelijke spiritualiteit:
Zen: Dec. 2009: Rohatsu op Sogenji, Okayama, onder de leiding van Rev. Shodo Harada (Roshi).
Shingon: June 2010: laatste gedeelte van Shido kegyo (fire-ritual) op Muryokoin, Koyasan, onder de leiding van Rev. Shodo Habukawa (Dai-ajari), specialist in de rituals van de Shingon sect van Japanese Esoterisch Boeddhisme.
Yoga: October 2010: Yoga-teacher training aan Yoga Vidyam University in de traditie van Patanjali (6th cent.) in Nashik, India.